Belchamps Throwers Club
The Bechamps Tomahawk Club is for Leaders with an interest and those that need to be regular throwers in POR as part of being an instructor.
It is open to all Adults and each night will have limited spaces so only book if you are within reason sure you can attend or log in again and cancel.
At the moment there is no cost, we might bring in a very small charge to cover the wear of the kit so we can replace as required from time to time.
It's running under scout rules, we have a site kit and you can use your own, but no throwing knives only tomahalks hawks, and angles (small halks), sorry no exceptions.
The Team
Tomahawks have a requirement for training and the requirement for regular throwing, so a team started to run the range to a high standard, keeping this activity adventurous and safe. The teems instructors have completed the Bushscout UK NSASU (National Scout Active Support Unit) tomahawk course and have logged a number of hours running the range and meet regularly to keep the level of skill required to help young people have a great experience of this exciting sport.
Some of our team are members of KATTA an 'umbrella' association of several affiliated clubs around the country. We also accept instructors who have completed the 1st Rayleigh Target Sports Instructor Development Course as runs to the same high level it's a great local option. You can view Bushscout UK NSASU Tomahawk Throwing for Young People Leaders Courses Here.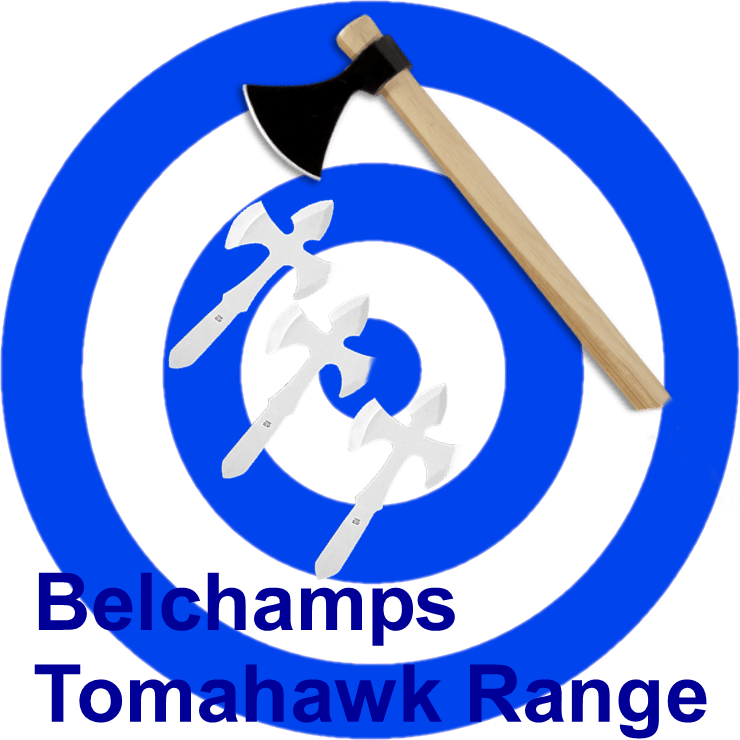 Contact Belchamps
Camp Site Address:
Holyoak Lane, Hockley
Essex, SS5 4JD
email:info@belchamps.org.uk




Sep
21
Wed
Wednesdays Tomahawks Club

@ Belchamps Tomhalk Range
Sep 21 @ 7:00 pm – 9:00 pm
Tomahawks Club Wednesday Monthly Meet 7 pm
Leaders Night for Throwers in Scouting with an Interest all leaders welcome.
Shop and Office Opening Times
PLEASE NOTE: Office hours may vary please ring first, no answer? you can email us: info@belchamps.org.uk and we will reply ASAP. I/We apologise for any inconvenience caused.
Belchamps Scout Activity Center
Holyoak Ln, Hockley SS5 4JD