AccomodatiON
Hutch and Den
About Hutch and Den
The Hutch and Den is a secluded building situated in The Warren campsite. It sleeps 14 people in three 4-bed dorms and one 2-bed dorm. The campsite can also be used for wide games and campfires – using the concrete fire blocks.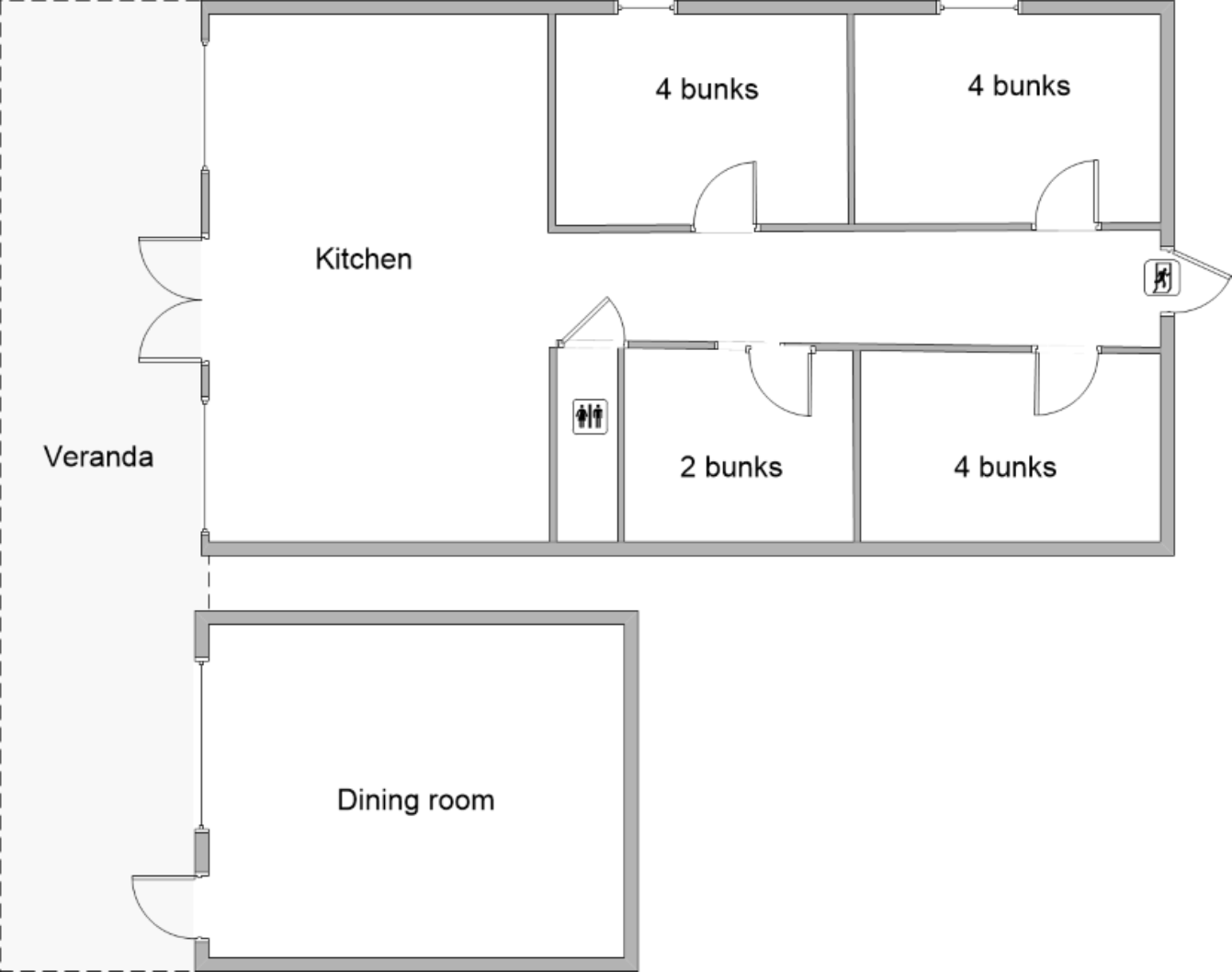 Amenities
This Buliding Includes…
Free WiFi
Ash at reception for the password to our guest network, ideal to stay in touch and social media posts.
Parking
Parking for leaders is in the lower carpark, just a 5min walk, there is only accsess by foot.
Bedroom Comforts
The rooms all have bunk beds and have mattresses, you will need any other bedding you require.
Washing Machine
The camp site has a small laundry room if required during your stay at Belchamps
Showers
There is a shower in the leader's room, Main Shower and toilet block are also available during your stay.
The Grounds
You are welcome to use the games field and woodland during your stay, this building is on the The Warren.
Checkin & Checkout
Only the group leader books in your party, as well as recording your arrival and issuing keys, you  will be given a guide to help your visit be successful.
Cancellation Policy
We have a full set of terms and conditions you need to be aware of when  making a booking, you can find them on the link below.
House Rules
Please look after your accommodation, it is the aim of scout groups to leave a place better than you found it, please keep it clean and undamaged.
Have a Great Stay At Belchamps
If you  need anything or have any sort of problem please ask and we will do our beast to help. Day time the reception and night time emergencies the number in your guide.
Contact Belchamps
Winter October to April: Monday to Thursday 9am till 6pm
Friday 9am till 8pm Saturday and Sunday 9am till 5pm
Summer May to September:
Monday to Friday 9am till 8pm
Saturday and Sunday 9am till 5pm
E-mail:  info@belchamps.org.uk
Tel: 01702 562690