AccomodatiON
Woodland Site 1&2
About
Camping At Belchamps
Belchamps Scout Activity Centre offers two woodland camping sites, ideal for Survival and Bushcraft Styles of Camping. Some great hangs for Tarps and Hammocks, very short walk to the Showers and Toilets.
Amenities
This Camping Also Includes…
Free WiFi
Ash at reception for the password to our guest network, ideal to stay in touch works across most of the site.
Parking
Parking for leaders is in the lower carpark, just a short walk, if you have kit to unload speak to reception.
Wood Piles
There are two wood piles, a main on by the lower carpark and at the bottom part of The Coop field. Altar fires are available to use on the woodland Sites. 
Washing Machine
The camp site has a small laundry room if required during your stay at Belchamps
Showers and Tolets
Two Main Shower bolock and toilet block are also available during your stay. Your never far away.
The Grounds
You are welcome to use the games field and woodland during your stay. Its a great place for wide games.
Checkin & Checkout
Only the group leader books in your party, as well as recording your arrival and issuing keys, you  will be given a guide to help your visit be successful.
Cancellation Policy
We have a full set of terms and conditions you need to be aware of when  making a booking, you can find them on the link below.
House Rules
Please look after your accommodation, it is the aim of scout groups to leave a place better than you found it, please keep it clean and undamaged.
Have a Great Stay At Belchamps
If you  need anything or have any sort of problem please ask and we will do our beast to help. Day time the reception and night time emergencies the number in your guide.

Contact Belchamps
Camp Site Address:
Holyoak Lane, Hockley
Essex, SS5 4JD
email:info@belchamps.org.uk




Jul
31
Sat
Gretel & Hansel's Camping Adventure

@ Belchamps Scout Activity Centre
Jul 31 @ 2:00 pm
Play. Make. Theatre presents the world premiere of their new family production 'GRETEL & HANSEL'S CAMPING ADVENTURE' for TWO SHOW's ONLY, outdoors within the woods at Belchamps Scout Activity Centre, Hockley.
This colourful, and captivating story adapted from the Grimm Brother's classic tale by local Hockley writer/director, Katie Patrick immerses the audience into a world of adventure, edible houses and friendship. It's Gretel's first camping trip with her childhood friend 'Hansel' the teddy bear, her troop and Helga, the Troop leader. After a silly prank, Gretel becomes lost in the woods and stumbles across a cottage made entirely of sugary treats, but all is not as sweet as it seems.
Grab your cushions, picnic blankets and baskets and treat your family to this deliciously fun coming of age show in the great outdoors.
Gretel & Hansel's Camping Adventure is suitable for all of the family and is jam-packed and sugar-coated with humor and heart.
Written by Katie Patrick
Directed by: Katie Patrick & Ivan Wilkinson
poetry written by: Serena Fyvie
Featuring Francesca Simons as Gretel, Amber Satchwell as Camp Leader Helga and Old Lady
Music By: EstherGarcia
Designed by John Patrick & Katie Patrick
Consulting Producer: Antony Stuart-Hicks
Produced by Play.Make.Theatre
* Katie Patrick is a beneficiary of the Mercury Theatre Colchester's Creatives Programme 2021-22
Show approx 50mins long no Interval
**Please note that Belchamps can accommodate disabled access but as it is outside some of the pathways may be uneven,  we advise you contact Belchamps first before booking: Belchamps contact details: email:info@belchamps.org.uk  Telephone: 01702 842 684
Our Refund, Exchange and Return Policy
Belchamps Scout Activity centre, auditorium, stage and surrounding areas are completely uncovered. Patrons, therefore, accept that weather, climate, temperature and light conditions, which are out of our control, are an integral part of the experience at Belchamps Scout activity centre and may impact their visit.
While we will make every effort to complete each show, we reserve the right to stop and start the show as necessary.
Shows will only ever be cancelled or abandoned in the event of bad weather, where such weather is deemed by the management to pose a health and safety risk for the performers or audience.
In some cases, we may choose to delay the start time of a show for reasons including weather forecasts we may have received.
If a show is cancelled on account of the weather, we will announce this at the time of cancellation at the venue. We do not communicate cancellations to patrons who did not come to the venue or who have already left the venue before the announcement.
Exchanging tickets for weather-related cancellation:
If a show is cancelled or abandoned because of the weather, you will be first offered to exchange your tickets for the rescheduled dates for Gretel & Hansel's camping adventure.
If the new scheduled date, if a new date is not possible then a refund will be made.
Other cancellations and resales:
For non-weather-related cancellations, only the face value of your ticket is refundable. This excludes any booking fees, delivery charges or other expenses incurred. In any event, personal arrangements including travel, accommodation or hospitality relating to the event which has been arranged by you are at your own risk and not refundable by us.
We can only accept tickets for resale once a show is sold out and cannot guarantee that they will be resold. The ticket cannot be resold no refund will be made.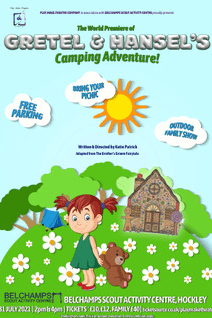 Shop and Office Opening Times
PLEASE NOTE: Office hours may vary due to the pandemic please ring first, or email us: info@belchamps.org.uk
Belchamps Scout Activity Center
Holyoak Ln, Hockley SS5 4JD