The Beginning
Belchamps Scout Centre opened in 1936 with the Declaration of Trust/Trust Deed completed 16th May 1936, the site was purchased for the sum of £1936 by the Southend-on-Sea and District Boy Scouts Association.
Essex Jamboree
One of the events we are very proud to have been part of is Essex Jamboree, 1949 Belchamps hosted the 3rd Essex Jamboree in 1949 this was the first time it became the Essex International Jamboree, our international Scouts were offered home hospitality after the event. , then every 4 years up to the 9th (1949-1980). Our site is 20 1/2 acres, EIJ being such a great event it became to big for the campsite. Thank you to Peter Brady who let us make images from his amazing collection of scout memorabilia.

Contact Belchamps
Camp Site Address:
Holyoak Lane, Hockley
Essex, SS5 4JD
email:info@belchamps.org.uk




May
31
Mon
Belchamps Birthday Party Trail

@ Belchamps Scout Activity Centre
Happy Birthday – Too us!
Happy Birthday – Too us!
Belchamps Scout Centre is 85 this year. Help us celebrate by booking on to one of our famous trails.
You'll be walking around the campsite looking for all the toppings and ingredients to make a birthday cake! The trail lasts about 30 – 45 minutes and must be booked online!
Limited spaces are available!
Just £5 per child, Adults are free.
Party bags for all paid children at the end!
Takeaway tea and coffee will be available.
Book your time slot now: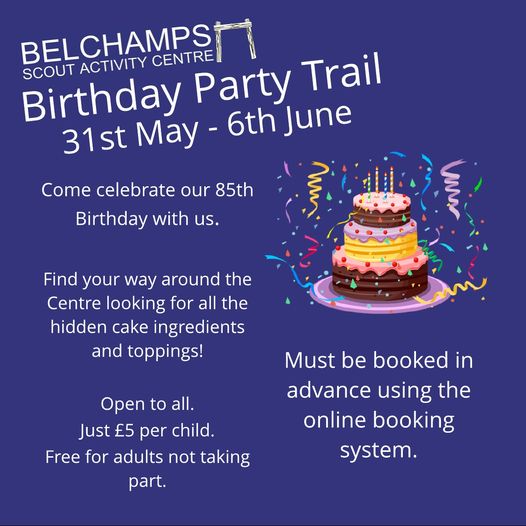 Shop and Office Opening Times
PLEASE NOTE: Office hours may vary due to the pandemic please ring first, or email us: info@belchamps.org.uk
Belchamps Scout Activity Center
Holyoak Ln, Hockley SS5 4JD